Photographer and adventurer Wade Hewitt is a self-professed "waterfall addict." His passion began with the exploration of popular waterfalls, then progressed to off-the-beaten-path waterfalls that few people witness. He then advanced to rappelling down these waterfalls to access places that only a handful of people have ever seen.
This type of canyoneering requires specialized gear, and especially tough photography equipment. For waterfall photos, Wade uses the Olympus Tough TG-5, a waterproof camera designed to take a beating.
He would end up putting his Tough TG-5 to the ultimate test.
Wade recently lost his Tough TG-5 while in a raging creek at the base of waterfall. "I noticed my camera case was open, and I realized it must have popped open as I was climbing over some logs," he said. "We tried to look for my camera, but there was a ton of whitewater and we were all quickly freezing from dunking our heads into the water to look for it."
"We had to give up our search. I couldn't decide what was more upsetting, losing the camera or losing all the images from that day."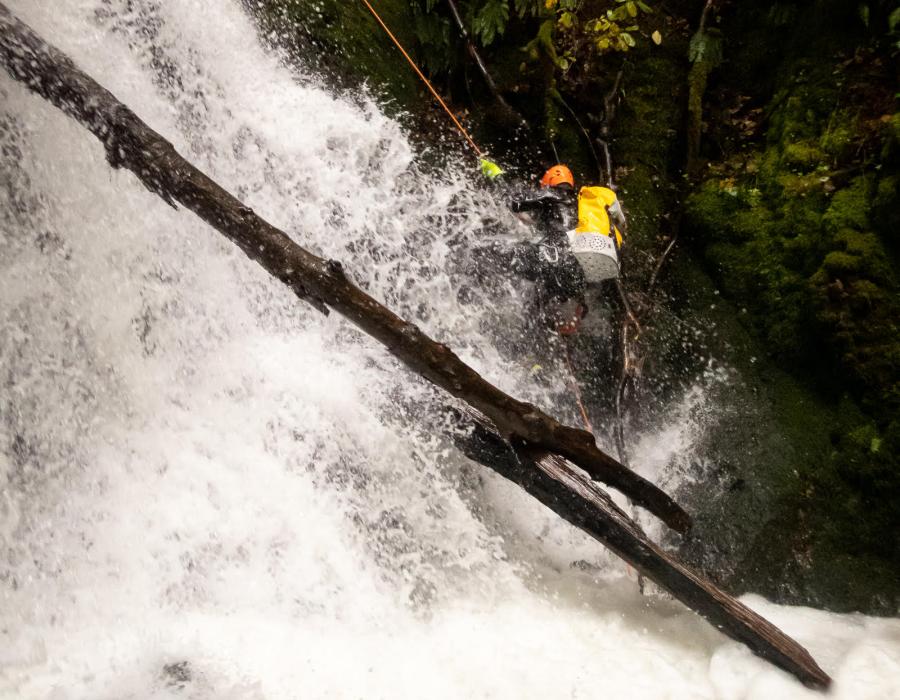 A week later, after water levels had dropped and the creek had calmed down, Wade and a fellow explorer went back to look for the camera. They figured it was a long shot but worth the effort before buying a replacement camera.
Once they got to the spot where the camera disappeared, they searched for it but couldn't see much due to bubbles in the water. Eventually, Wade dunked his cell phone in the water to shoot video below the bubbles. After a long search, he caught a glimpse of his camera's red strap.
"I wasn't sure so I showed the phone video to my buddy and he couldn't believe I caught enough of a glimpse of the strap to identify it," said Wade. "Even after we knew the general spot it then took many tries to actually grab the camera with my hand."
Once Wade got the camera home, he opened up the cover for the battery and SD card and everything was totally dry inside. He knew it was waterproof, but it had been on the bottom of a creek in cold rushing water for a week.
The next morning when Wade turned the camera on it worked just fine. "It was like nothing had ever happened! The battery was still fully charged, despite the temperature of the water being about 40 degrees for all that time," Wade said. "I'm still shocked that I actually found the camera, and even more impressed that it still works!"
"

I have to say that the Olympus TG Tough lives up to its reputation. That's one tough camera."
---