Company recognized for administrative professionals' career advancement initiative, OA3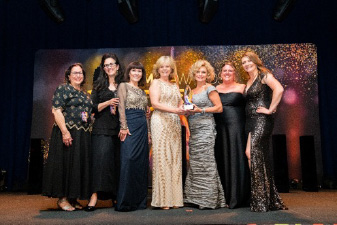 Members of the Olympus Corp. of the Americas administrative professionals team, from the left, Adrienne Juskalian, Cherene Mastroianni, Karen Mitchell, Lisa Crouse, Annmarie Faust, Brenda Kochel and Ashton Blust, in June accepted the Founders Award for the company's OA3 initiative.
CENTER VALLEY, Pa., (July 6, 2020) – Olympus Corp. of the Americas (OCA) announced today that it received the Founders Award for its efforts in providing career advancement opportunities for its administrative professionals.
Presented by the Philadelphia chapter of the Admin Awards, the Founders Award recognizes companies that provide exceptional opportunities for career advancement in both title and compensation for administrative professionals. It is the Admin Awards' only company-based honor.
The Founders Award recognizes OCA for its Olympus Administrative Assistant Alliance initiative or OA3. Formed in 2016, OA3 launched with a goal of nurturing a work environment that supports continuing education, creativity and camaraderie.
Sometimes supporting teams of as many as 400 people, OCA's administrative professionals are invaluable members of the organization, said Christine Gordon, Regional Chief Compliance Officer for OCA. The ability of colleagues like Brenda Kochel, the senior administrative assistant for Governance, Risk and Compliance, to effectively organize a department assumes a major responsibility that allows the executives and officers they support to do their jobs more effectively and efficiently, Gordon said.
"The professionalism, integrity and attention to detail shown by OCA's administrative professionals is unparalleled," she said. "They truly embody Olympus' core values and exhibit the ability to adapt and adjust as the backbone of what we do on a daily basis."
Before OA3, about 30 executive administrative assistants supported roughly 5,500 employees across various core business areas with limited collaboration and a subsequent disconnect from colleagues. The initiative first began as a regular luncheon among administrative staff to help build relationships and find ways to work together.
That would evolve into OA3, which now includes regular business meetings to review processes, Q&A sessions, discussions with subject matter experts from various OCA departments, webinars and annual attendance at the PA Conference for Women, all designed to help its roughly 50 members advance personally and professionally.
Opportunities borne out of OA3 include Senior Executive Administrative Assistant Chieko Furumi assisting on a global CAPA (corrective and preventive action) project. Traveling between the U.S. and Japan, she toured Olympus facilities in Japan, worked to improve CAPA processes and provide trainings. As Olympus began its transformation into a global medtech company, Furumi worked with colleagues to establish a mindset of how to improve not only as an individual but how to affect positive change as a company.
She's now taking on a global CAPA role as a data analyst.
"Like other administrative professionals within OCA, I was encouraged to take ownership of this project and assume a leadership role," Furumi said. "What started as a special project evolved into a career move thanks to our chief quality officer and CAPA leadership. My foundational work as a member of OA3 allowed me to be selected for this critical role at a critical time."
# # #
At Olympus, we are committed to Our Purpose of making people's lives healthier, safer and more fulfilling. As a global medical technology company, we partner with healthcare professionals to provide best-in-class solutions and services for early detection, diagnosis and minimally invasive treatment, aiming to improve patient outcomes by elevating the standard of care in targeted disease states.
For more than 100 years, Olympus has pursued a goal of contributing to society by producing products designed with the purpose of delivering optimal outcomes for its customers around the world. For more information, visit medical.olympusamerica.com.