Bartlett Remembers Colleagues through Tennessee Tree Day
By Michael Wilson, Olympus' Associate Manager of Corporate Communications

Tennessee Tree Day serves as an annual opportunity for those within the state to plant trees and do their part to help our environment. But in 2023, the day took on an added meaning for Olympus Corporation of the Americas' Bartlett facility outside Memphis.
This past spring, Olympus had four trees dedicated to the four Bartlett employees who had passed away between February 2020 and September 2022: Mike Duncan, Jay Farmer, Ken Klabbatz and Jim Wheeler. The Tennessee Environmental Council planted these trees throughout the state and provided Olympus with certificates of dedication for each.
It felt like Bartlett was hit hard with so much heartbreak in a short period of time, and this was very difficult for employees," says Barbara Hendrix, Senior Specialist of Environmental Health and Safety (EHS) in Bartlett. "It's very emotional when someone you've been working next to is suddenly not there. And in almost every case, these losses were sudden."
Previously, employees would gather at the flagpole outside the facility to mourn the loss of a colleague. A memorial was held for Farmer in February 2020, but the COVID-19 pandemic that followed restricted these gatherings. When Tennessee Tree Day rolled around in March 2023, it provided an opportunity to memorialize these friends and colleagues.
Hendrix first learned of Tennessee Tree Day in the spring of 2022, just before the event was scheduled. Despite such short notice, a number of individuals from Bartlett participated and planted more than 70 trees around the area.
Increasing focus on the environment has been a high priority for the Bartlett facility during the past few years. It is one of five Olympus locations that are certified to the ISO 14001 Environmental Management Systems Standard. This means each of these five sites is subject to an annual assessment by an external environmental auditing firm to ensure that they are continually improving their environmental performance as required by the standard.
As Tennessee Tree Day approached in 2023, Hendrix had more time to plan. She discovered the option to have newly planted trees dedicated. It was the perfect way to memorialize the colleagues Bartlett had lost while continuing its mission to help our environment.
"It was a nice way to do something for those employees," Hendrix says. "We wanted to show the entire site that we didn't forget these colleagues."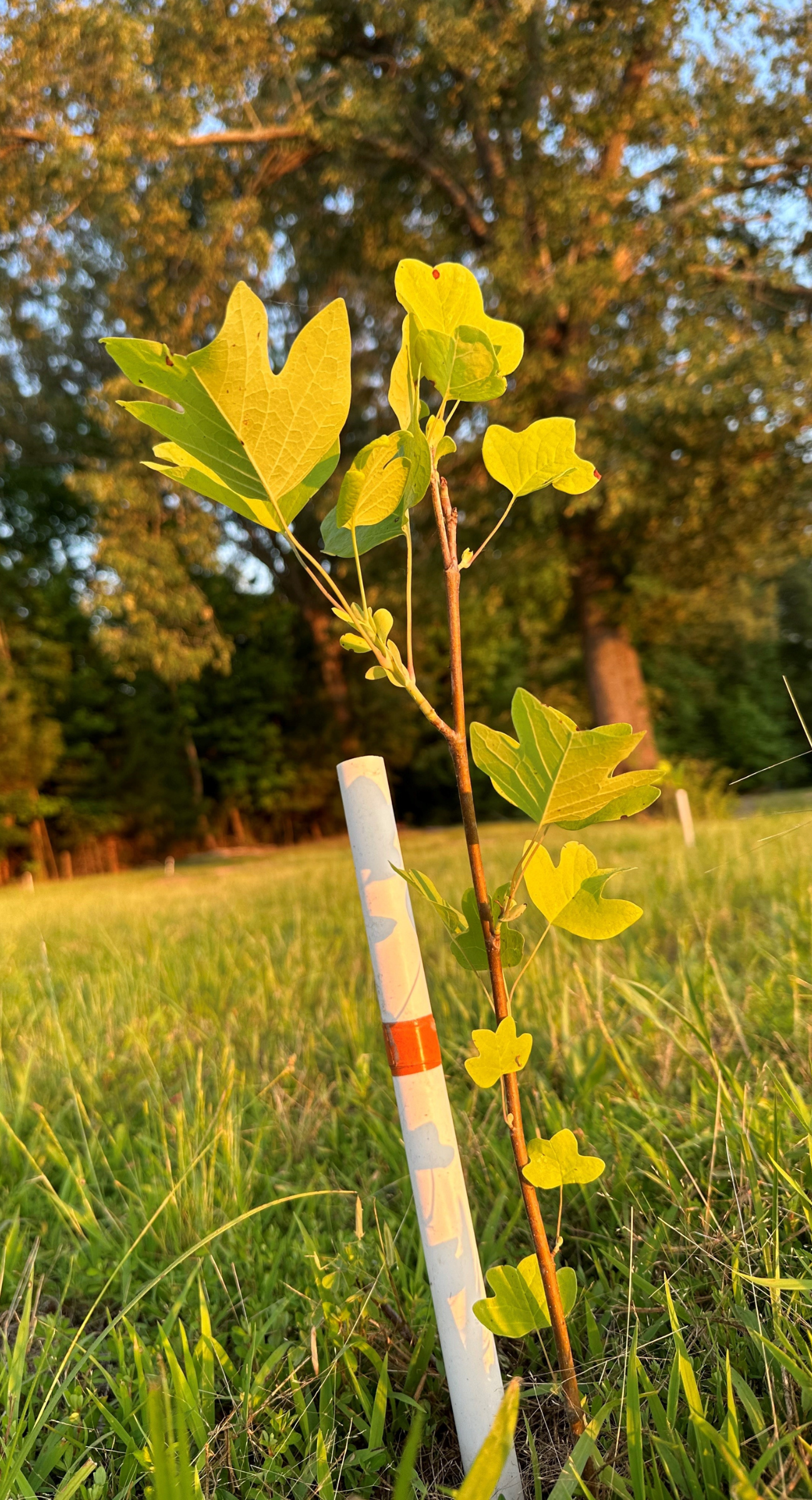 The tulip poplar, which is native to Tennessee, was selected as the tree to be planted in memory of these former colleagues. Olympus' EHS sent out an email to all Bartlett employees following Tennessee Tree Day to let them know that the trees had been planted.
Bartlett houses manufacturing and a warehouse for Olympus Surgical Technologies America and repair capabilities for customers in the eastern United States. It's a close-knit group of dedicated employees who in recent years have persevered through the COVID-19 pandemic, an IT security crisis and supply chain challenges.
The Tennessee Environmental Council, organizers of Tennessee Tree Day, provided certificates of dedication for Duncan, Farmer, Klabbatz and Wheeler, which were given to individuals in their respective departments.
Cassie Cranford, Warehouse Administrator in Bartlett, received the dedication certificate for Wheeler, who had been Bartlett's warehouse manager during part of a 20-year career with Olympus between Bartlett and Center Valley. Cranford made a copy of the certificate and sent it to Wheeler's mother in Pennsylvania.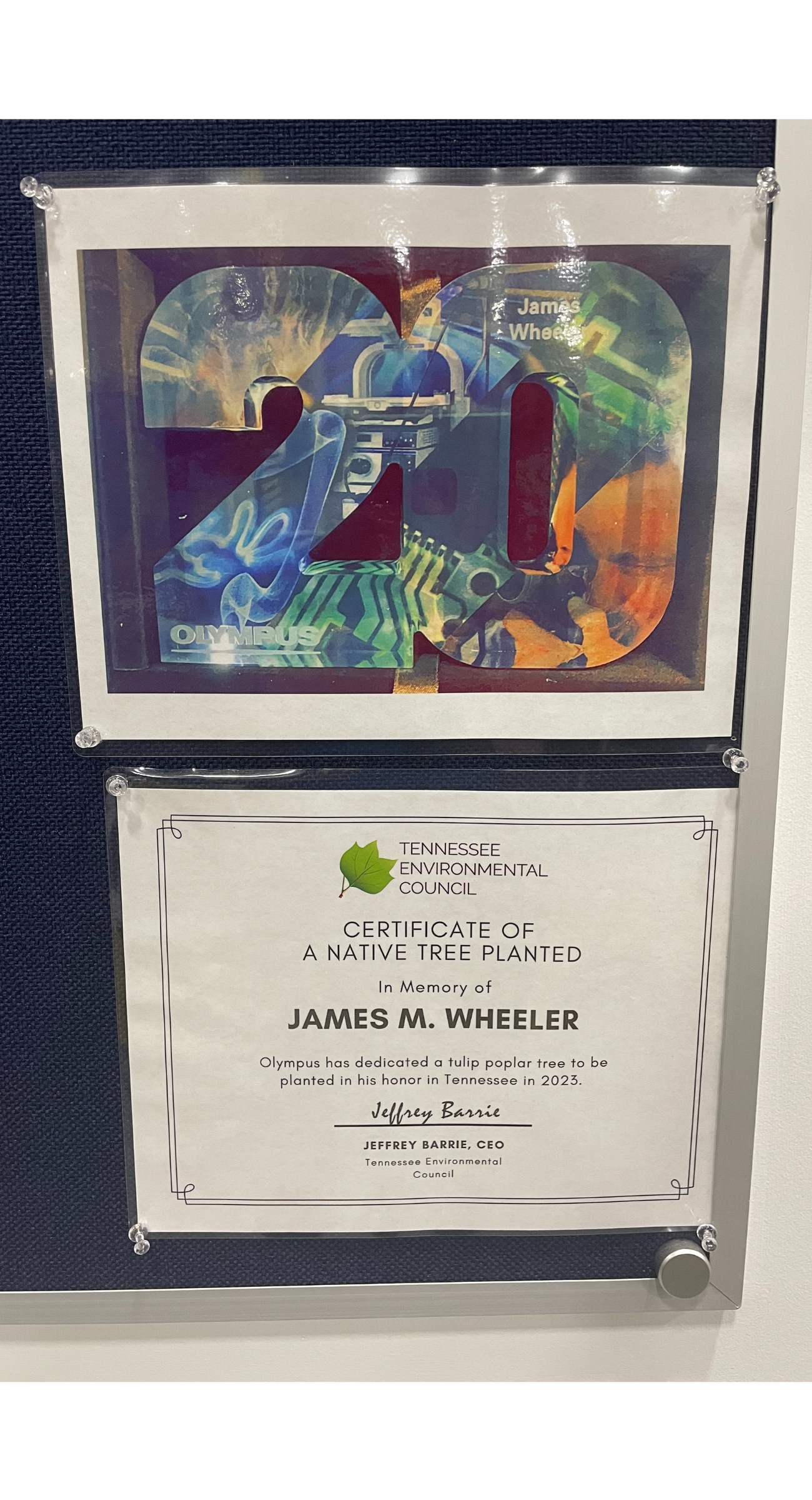 "When this happened to Jim, we were a small team as it was, and we still couldn't really all be together due to COVID," Cranford said. "It was just like one day he was gone. So, it was nice to see this done for him."
Wheeler's tree dedication certificate hangs alongside a photo of his 20-year service award—which Cranford also sent to Wheeler's mother—on the warehouse bulletin board.
There are fond memories of each one of these colleagues, not just within their teams but throughout Bartlett. Klabbatz worked at Olympus for 29 years and was integral to the startup of Bartlett's repair facility. Farmer worked for both the manufacturing and repair teams during his five years with the company. Duncan worked as an electronics endoscope technician for nearly three years.
In some cases, these employees and their colleagues would spend up to 11 hours a day with each other on their shifts.
"To see them one day and not the next had a tremendous impact on us," says Vick Lampkin, General Manager of Bartlett. "I don't take anything for granted. I realize in my capacity I can't be successful—and Olympus can't be successful—without our people. When we lose someone, it's more than that—it's like losing a family member."
"

This didn't happen just once or twice, it happened several times here. Normally we would've been able to go out and share our memories with each other at the flagpole. These trees are doing that for us now. They turned a sad situation into something more positive to remember."
---
Moving forward, Bartlett will continue to get involved in Tennessee Tree Day. While the dedication of trees this year served a higher purpose, the hope is that future occasions will provide happier memories.