From Muncie to Massachusetts: Spotlight on Olympus Employee Emily Halley
It wasn't always a dream to work in the medtech industry for Olympus' Senior Manager of Omni Deployment Emily Halley.

"I always imagined I'd go into the B2C [business-to-consumer] world. I had this dream of working for American Girl®," Emily laughed, describing the Mattel-owned doll company that allows customers to design custom dolls and lookalikes online. Before her current position, she admits, "I probably would have [thought] 'healthcare, a lot of great opportunities, but maybe not the greatest fit for me.' But Omnichannel opened my eyes [to] so many opportunities within healthcare to do marketing, to do digital, to do all these things that I love doing. This is the place I want to be." But as she recalled, "I just needed to find the right role."
Discovering her path
Emily studied marketing during her undergraduate years at Ball State University in Muncie, IN, where she also explored a career in sales. She wasn't convinced that she was suited for that discipline, but remained open to her professional options.

One of her college professors recommended applying to a rotational development program. She stumbled upon a list of programs on a college website and recognized Olympus' name. She applied and was accepted after graduation in 2017.

"I saw this as a great opportunity to live [in] and see a new area of the country," she said. "This gave me an opportunity to move up to Massachusetts and explore New England."
21-month rotation
During her rotation, Emily was based in the Southborough, MA, location, which has since moved to a new facility in Westborough, MA. The program she was enrolled in supported recent college graduates with the resources to experience a 21-month rotation between three different areas of the business. Emily spent the first nine months at Olympus in Surgical Endoscopy marketing, then transitioned to Surgical Endoscopy sales for six months, and spent her final six months in Gynecology sales training and marketing.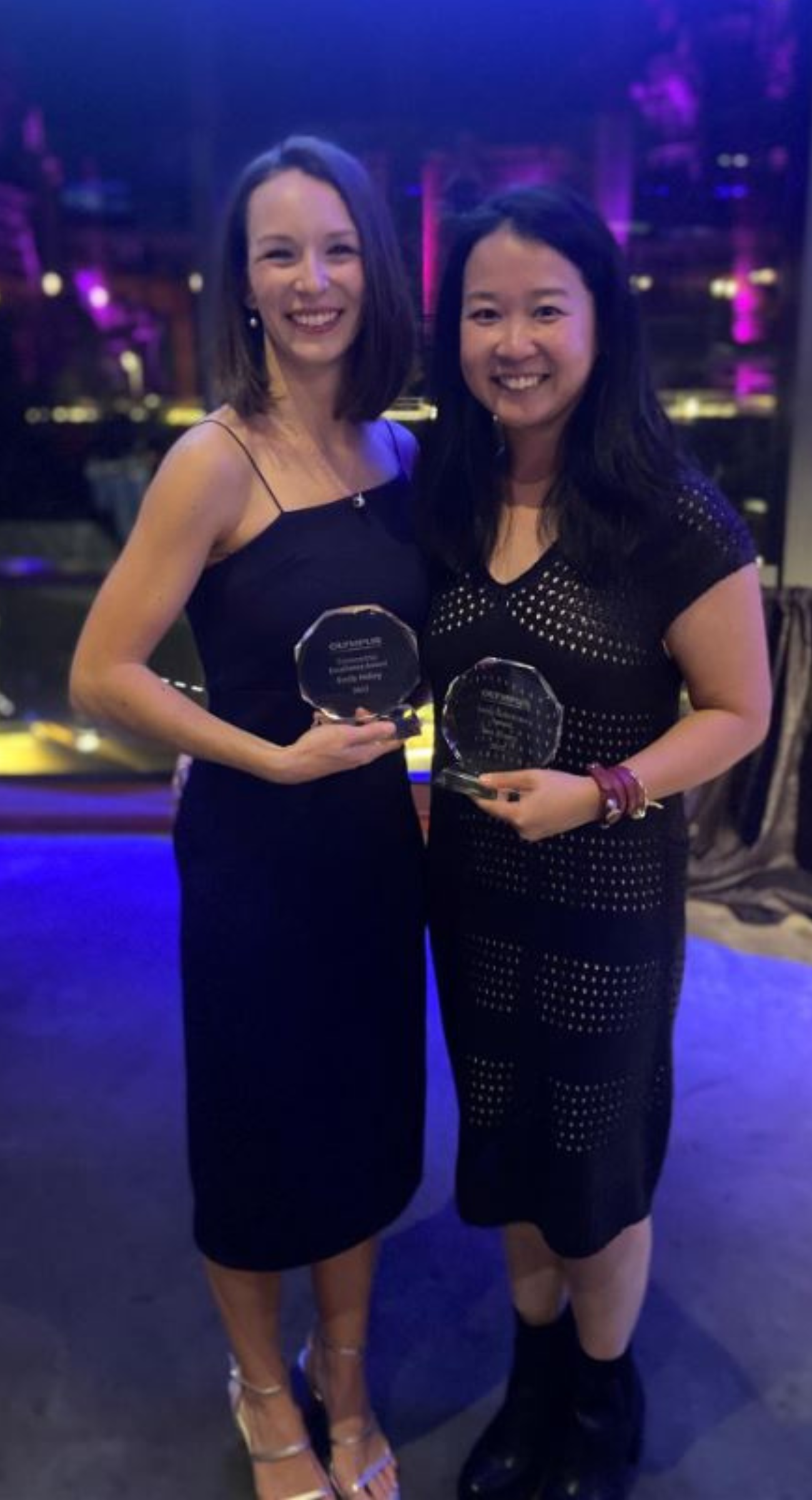 From left: Emily Halley and colleague, Sen Zhang.
"I liked that the rotation of the [program] allowed me to try out different areas of marketing before settling into a longer-term role, and to see all the dynamics that happen within a larger corporation like Olympus," she explained.

Emily gained field experience with Surgical Endoscopy sales representatives, which allowed her to see the challenges they overcome and how they truly support customers in various ways. She also learned the importance of strong collaboration between sales and marketing.

But it took Emily "passing out in quite a few operating rooms" to realize that medical sales was not her dream.
Product management, marketing
After the rotation commenced, Emily returned to the Surgical Solutions team as an associate product manager and was later promoted to product manager. She was grateful that her supervisor at the time tailored the role to Emily's marketing skillset, where she could get the most fulfillment working within that space.

"I was fortunate to support a majority of the marketing and digital efforts for the entire systems integration team across all the integration and infrastructure portfolios," Emily said.

Then one day, during a visit to Olympus' Center Valley, PA, location, Emily serendipitously ran into Suzie Morgan, Commercial Enablement Executive Director, who was then the Executive Director of Omnichannel. Their conversation opened a door for Emily—an opportunity in the role of Endoscopy Omnichannel Deployment Manager.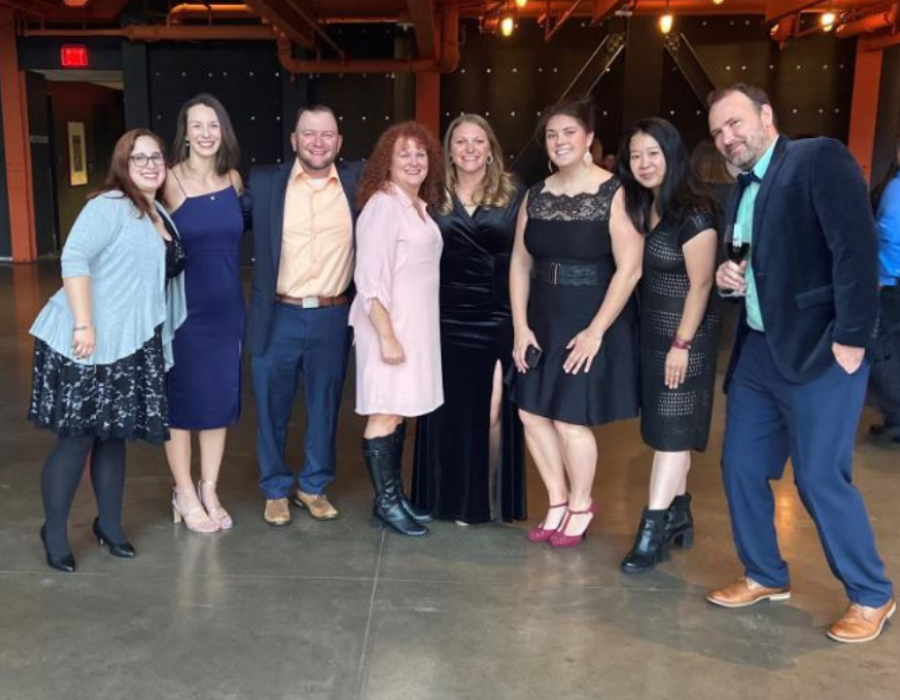 From left: Jordan Swankoski, Emily Halley, Kiel St. George, Loralee Foster, Suzie Morgan, Mari Welsh, Sen Zhang, and Michael Reardon
The 'Olympus Omnichannel' way
As an omnichannel deployment manager, Emily's role includes working cross functionally with teams to help strategize, plan, and execute business strategic initiatives for the gastrointestinal and endotherapy product teams. In a recent promotion, Emily took on even more responsibility when she accepted the role of Senior Manager of Omni Deployment.
The company's official omnichannel focus was laid out in 2021 as part of its Go-to-Market Transformation. The Omnichannel teams aim to reach the right customer, with the right message, through the right channel, at the right time.

"[Olympus has] been doing things like omnichannel [marketing] for a while, but in little pockets," Emily explained. "Having an Omnichannel team puts a spotlight on all these incredible initiatives that were happening before [Omnichannel], and it also increases the importance and visibility of it," with no day feeling like the day before.
"There's definitely never a boring day at Olympus," she laughed. "Some of the key things that are consistent day-to-day is that I'm fortunate to work on business strategic initiatives … I feel I have a purpose and that I'm providing immense value to the teams that I'm supporting because I'm focused on the initiatives that the business believes are the most critical."
Omnichannel at Olympus fosters collaboration, according to Emily. One of her favorite things about her role is that she works "with very knowledgeable and passionate people who all work toward a common goal of … exceeding the expectations of the customer." She adds, "Our campaigns are stronger because of all this expertise." And she works to make sure that "everyone's opinions are heard, so that the solution is cohesive, [and the] best outcome for the customer."
Owning her role
Emily has an eye for streamlining efficiencies. "One of the areas that I'm starting to get into is finding roadblocks in [existing] processes and working cross functionally [with teams] to determine and implement short-term and long-term solutions, whether that be with the Salesforce® [customer relationship management system], or lead management" strategy, she offered. "We now have this Omnichannel team that can take on these challenges that no one had the time or bandwidth to take on."

Emily has also honed her empathetic skills. "So many times in our meetings I've felt like, 'WOW,' I have so much more empathy for our sales reps," she said. "They are running, going from one facility to the next in their given territories." Through this window into her sales colleagues' lives she has also gained a customer perspective "It reminds me that every decision that we make internally has the potential to have an impact on the customer," she added.

Before executing a plan, she advises: "Always make sure that a decision is not only good for Olympus, but also a positive for the customer."
Westborough experience
With the dream of working for American Girl behind her, Emily now embraces her "Olympus family" and appreciates the support from all members, with whom she loves working.

Emily also raves about the new Westborough office, describing it as "a beautiful space built for collaboration that inspires creativity." Training and education facilities on campus are also impressive. "We have the OR Innovation Center, which is a great space to bring customers in. It has all the integration [and] imaging products." She says it benefits Olympus staff too. "For [employees] that never have the opportunity to go out in the field, seeing products in action makes all the difference."

Emily explained that when non-Olympus employees ask about a certain job posting, she gets excited to talk about her employer. "I think that I may scare people off," she laughed. "They'll message me to ask what I think, and then I send five pages worth of all the reasons that I think they should go for it. I just really want people to experience Olympus."
---
Seeking an Opportunity?
Check out our Careers page and consider pursuing a path within our talent network dedicated to making people's lives healthier, safer, and more fulfilling.