Future Innovators Try Their Hand at Pitching Prototypes
By: Ed Sieger, Olympus' Public Relations Specialist

The ideas ranged from an education app to a backpack toaster to plastic yarn or "plarn."

But the students in Building 21's Engineering and Design course all brainstormed their sustainable product ideas with the same goal in mind: improve the lives of the people in their community.

Communities in Schools Eastern Pennsylvania and the Olympus Emerging Professionals CAN (Colleague Affinity Network) partnered with the Allentown School District's Building 21 on a product design program to help mentor students interested in STEM (science, technology, engineering and math).
Now in its third year, Olympus employees offered students insights into their respective disciplines, including supply chain management, marketing, public relations, data and analytics and engineering. Based on the sustainable development goals in the U.N. Global Compact, teacher Melissa Routson then challenged her students to design a product prototype to help make the world a better place. Mentors took students through the product cycle from R&D to production to sales with sessions on business-critical skills including presentations and public speaking.

The students recently made their pitches to a group of Olympus employees, answering questions about their products and gathering feedback on the presentations.
As a medtech company, Olympus looks to make an impact in its communities in key areas like cancer awareness and STEM mentoring, according to Krista Ortwein, Director of Corporate Social Responsibility for Olympus Corporation of the Americas based in Center Valley. Programs like the one offered through Building 21 are intended to expose students to various STEM career possibilities and inspire future generations of the workforce to consider healthcare as a career choice, she said.
"It's not just about helping out in the community, it's about inspiring the next leaders in the workforce," Ortwein told the group.
The problem of plastic bags
Jude, a senior at Building 21, was inspired to convert disposable plastic shopping bags into "plarn" based on what he's seen in his family's native Haiti.

"There are bags everywhere and people don't know what to do with them, so they end up burning them," he said.

Wanting to tackle the problem of improper disposal and a lack of recycling options, Jude initially considered creating easily discernable plastic bag recycling bins that could be placed throughout a city. The idea morphed into cutting hundreds of bags into strips, knotting them together and crocheting a reusable tote. The result was a prototype that was remarkably soft and felt like a cloth bag.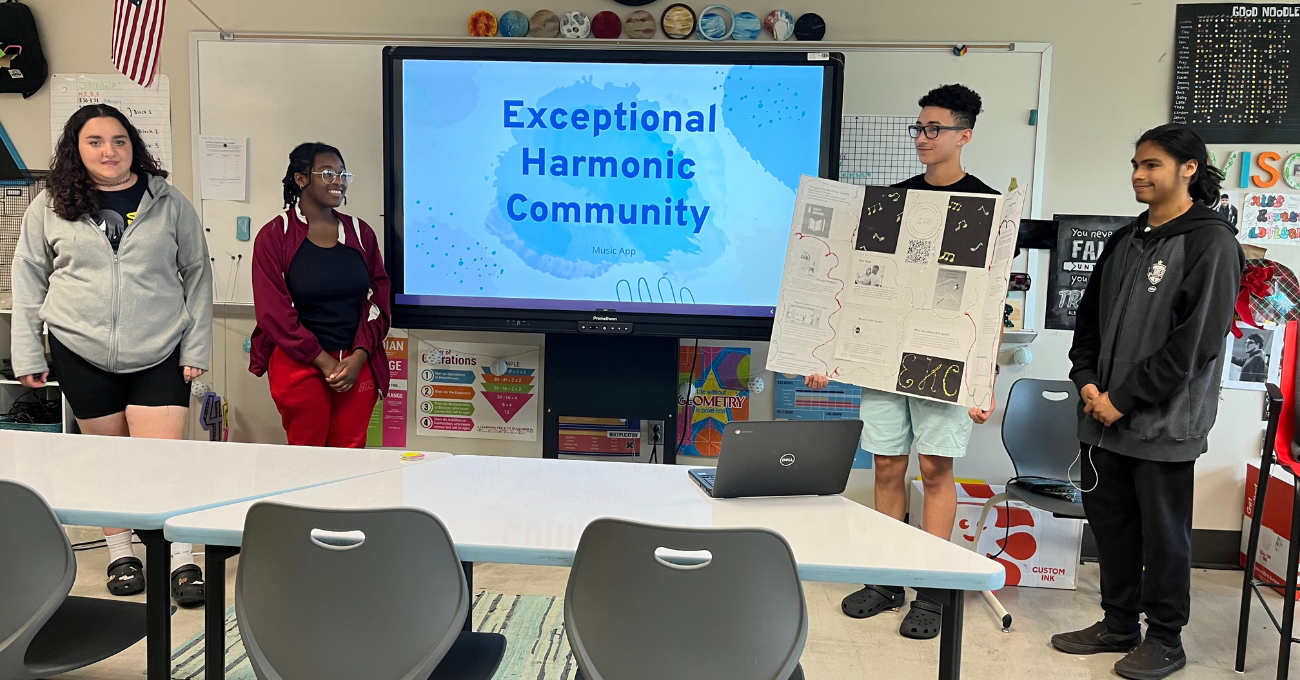 Other ideas included using the "plarn" to make rings, necklaces and even clothing.
Making learning accessible
The goal behind Madison's education app, Intelligenci, was to offer better learning opportunities for children and learning options for adults trying to figure out their passions. The junior said she also envisions using the app to provide educational opportunities for those with disabilities and for those dealing with discrimination.

"We want good education for everyone. We want good lives for everyone. That's what we so desperately want," Madison said. "That's why education is so important. Small steps can make a big impact."
Janier, Autumn, Vanessa and Yandiel, all juniors, also wanted to expand educational opportunities, so they chose music. Why? Because everyone can connect with music in some way, they said.

The group's goal was to provide equal, global access to music lessons by allowing young students to schedule affordable on-line lessons. During her team's pitch, Autumn said she had always wanted to take piano lessons but couldn't afford it, so she managed to teach herself.

"People have talents that need to be awakened and are sometimes too afraid to show it," she said.
Breakfast on the go
Building 21 Juniors Alex, Jalius, Omar and Jose came up with a mobile way to tackle the issue of hunger: the backpack toaster.

The concept had its challenges like finding the right power source for a toaster you carry on your back and early test runs that melted part of the prototype.

As complicated as the design may have been, the goal was simply to help find a way to address hunger, whether giving school children a way to eat breakfast at school or using it in some capacity to help feed the homeless.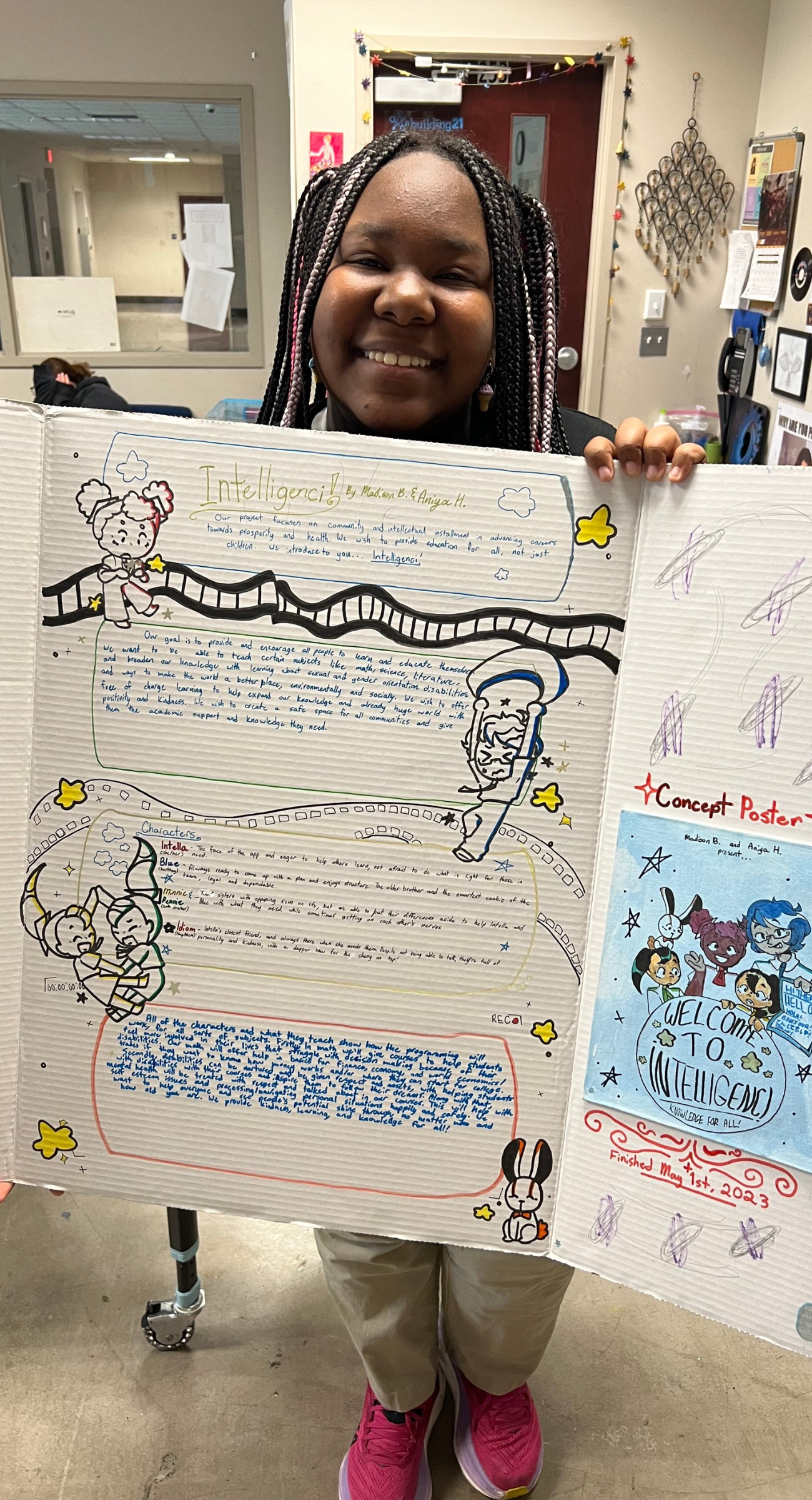 Erin Allen, associate category manager in central procurement at Olympus, is a member of the Emerging Professionals CAN who helps organize the mentorship program. She was involved in starting the program in 2021 during the COVID pandemic and has led the program with Amanda Kaschak, compliance business partner manager, and Karlynn Miller, project manager, transformation & operational excellence, governance and controls. Brittany Pierzga, CSR associate program manager, joined as a program lead this year.

Along with fostering community engagement, the program offers students an opportunity to gain real-world insight into possible career paths and hopefully garner some inspiration from professionals sharing their experiences and expertise, Allen said.

"The Building 21 program is not just about teaching high school students about Olympus, career pathways, or product development," she said. "It's about building bridges between education and industry, fostering community collaboration and empowering the next generation of the workforce."
A winning effort
The efforts of the Emerging Professionals CAN also scored a win in the Volunteer Center of the Lehigh Valley's Volunteer Challenge. The Volunteer Challenge mobilizes corporate teams aligned with local nonprofits to complete sustainable projects. The goal was to highlight the initiatives and raise money for the Volunteer Center which has served the Lehigh Valley and surrounding communities for more than 35 years.

Each challenge team and nonprofit designed a tabletop display highlighting their project that was presented in a career-fair-style event to showcase the projects for the Volunteer Center's board and community leaders. In the weeks leading up to the event, each challenge team raised money for the Volunteer Center which equaled votes towards the projects, and the Emerging Professionals CAN came out on top.