A New Spin on the Tour de Tush: National, Virtual, and Goal Attainable
Maggie Talierco likes to ride charity rides.
"I have always been an avid cyclist, both outdoors and indoors," she said.
This year Maggie joined the Olympus Tough Crew 2022, a virtual team participating in the National Tour de Tush, a cycling event organized by the Colon Cancer Coalition, which Olympus Corporation of the Americas sponsors.
Sponsors play an important role in supporting this non-profit organization that works to drive increased screening rates, awareness, and education of colon cancer in communities across the U.S. Maggie works at Olympus' Center Valley, PA office as Manager, Global Market Intelligence Data Management, Endoscopic Solutions Division, and Therapeutic Solutions Division. She has participated in the Tour de Tush since its inception in 2015.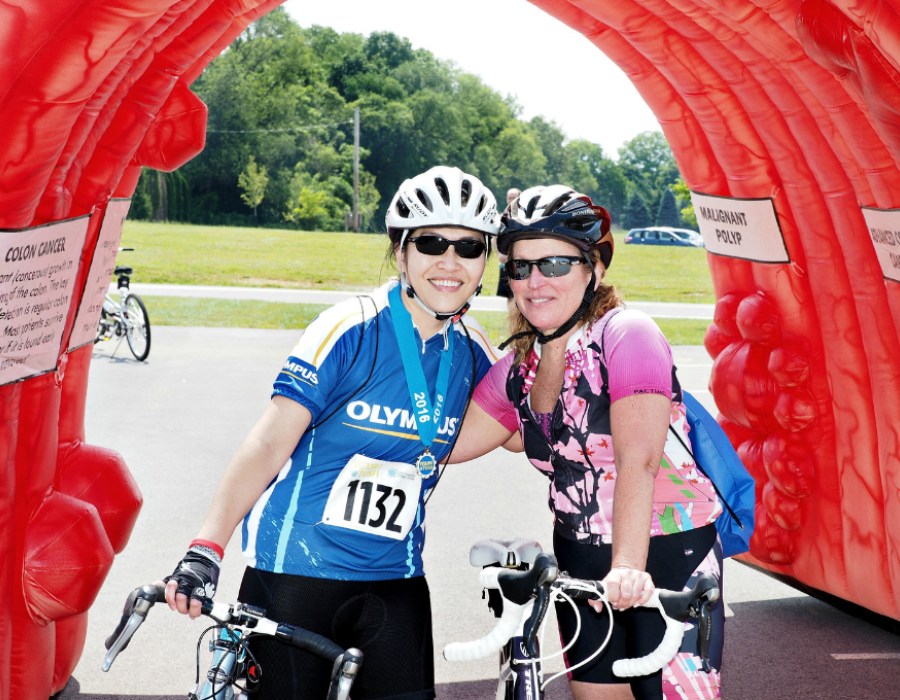 Maggie and riding partner, Karen Grayson, during a previous Tour de Tush event.
The annual event is in its second virtual year, and Maggie has renewed her 200-mile "Weekend Warrior" goal for the month, which she plans to tackle on both her Trek® road bike and her Peloton® stationary bike. Maggie started racking up her miles on May 1, 2022, the first day of the month-long event.
"I rode indoors. It was a little overcast, but I'll get out there," she said, adding that the indoor, virtual option allows her to avoid less-than-desirable weather conditions and still meet her goal.
She tracks her miles on Strava, the exercise tracking platform popular with cyclists and runners. Mileage can be tracked manually by entering it on the site page you create for the event, or automatically by linking your Strava account to your personal page.
Raise awareness and money, and increase fitness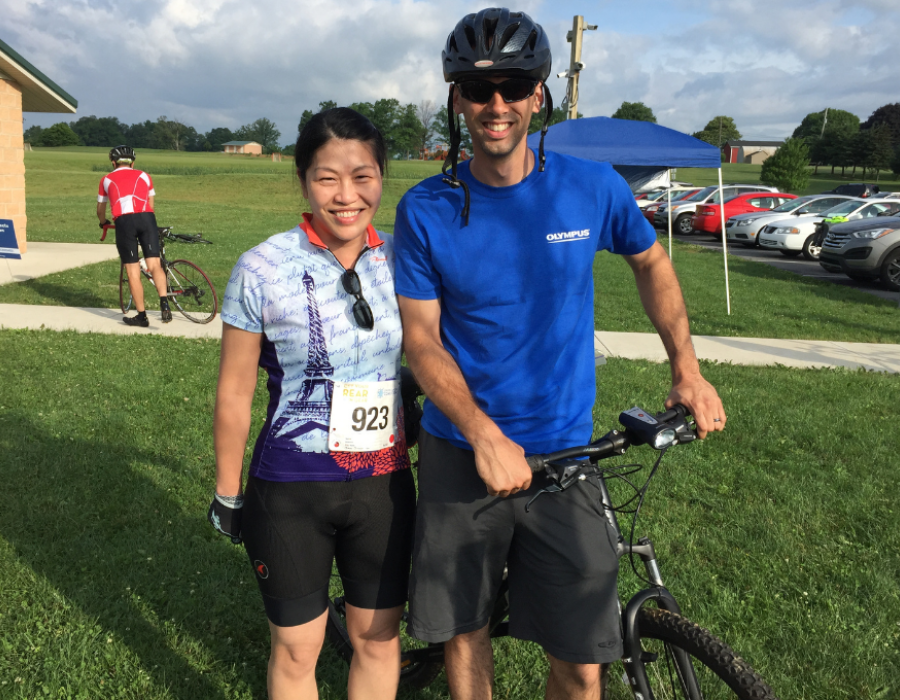 Maggie and colleague Chad Smith, Olympus' Video Manager, Digital & Creative Services.
This is not Maggie's first rodeo.
"I have been road cycling for about 15 years. I have done many local charity rides including several MS 150 City to Shore events," she says of the two-day, 150-mile ride from Cherry Hill, NJ to Ocean City, NJ.
Her motivation to participate in charity events is part personal fitness goals, and part altruism. "I set myself a goal and then also make a difference for the world," as she puts it.
Knowing friends and family members who have had cancer—and some who have succumbed to the disease—keeps the charitable aspect relevant in her mind.
Maggie rode in the first Tour de Tush in Allentown, PA, and recalls meeting the event's founder, Gale Fritsche, a stage III colon cancer survivor. Maggie admits she misses the "day-of" excitement and camaraderie with Olympus colleagues. "We'd all get together and put our bibs on our jersey, and we'd all ride off together," she said, recalling "the adrenaline rush when you start as you ride out with your friends and colleagues." And at the end "they had a big blown-up colon so when you came back, you rode through the colon, and all of your friends are cheering for you as you ride through it."
Still, Maggie said she's happy to see the long list of Olympus teammates in Olympus Tough Crew 2022. "Every year there is more and more [participation] and I'm happy to see that."
This year the event features scheduled rides on Peloton using #tourdetush. Participants can check the event's Facebook page for on-demand ride announcements to participate with a group. 
If cycling is not your thing, the Colon Cancer Coalition sponsors Get Your Rear in Gear race/walk events, which Maggie has also participated in. "It's a good way for me to get motivated, to set my goal for the year or for the season, and help raise funds, which will hopefully contribute toward research and raise awareness."
It is a win-win for Maggie "to make myself feel good and contribute to the community, especially working for a company like Olympus as a big sponsor. You feel proud, like you're making a difference in the world."
---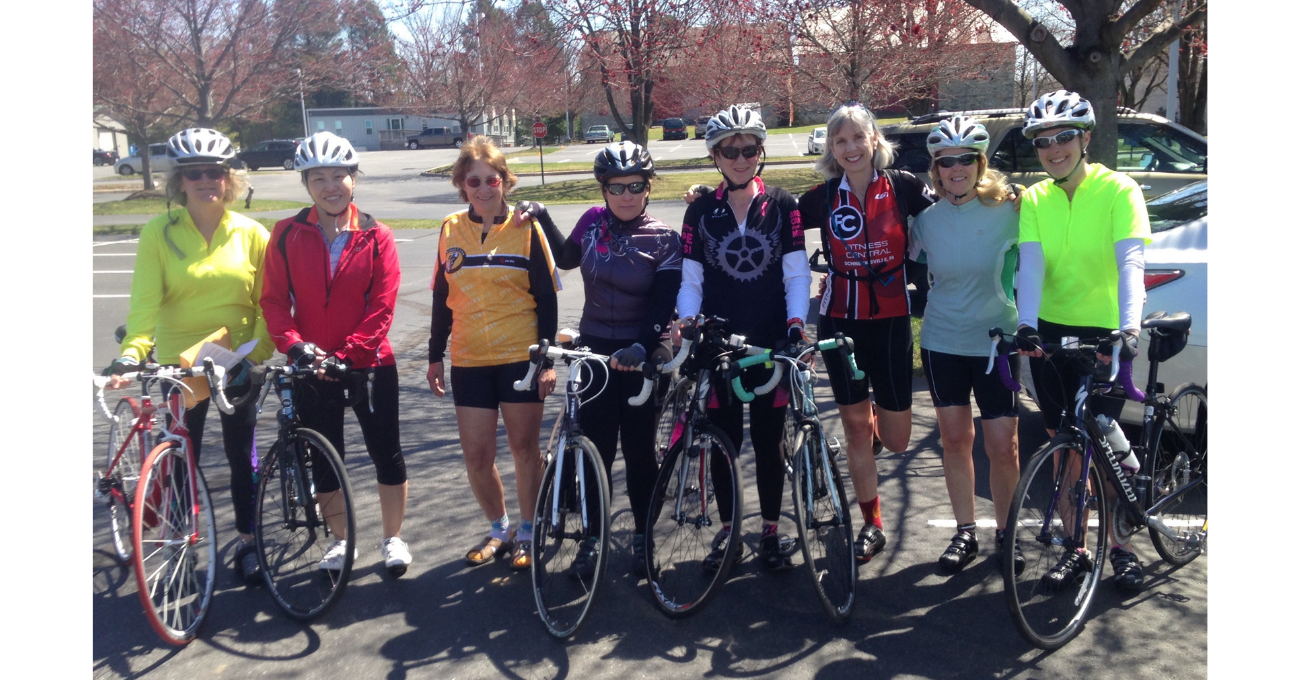 Learn about other ways you can support your community with colon cancer awareness by visiting: