Four-Year-Old Girl with Brain Tumor Benefits from New Technology Investment at Akron Children's Hospital
The ORBEYE™ exoscope was used during a life-saving procedure for a four-year-old girl at Akron Children's Hospital, the first independent children's hospital in the U.S. to purchase the ORBEYE. Dr. Tsulee Chen, who performed the operation, is a member of the pediatric neurosurgery team that championed the purchase of the exoscope as a replacement for the eye loupes and headlights typically worn by neurosurgeons to perform microsurgery.
"Every moment is critical in surgery – precious time can be saved with specialized equipment that allows for natural three-dimensional vision, a wide-range magnification and working distance, excellent visibility, and versatility during surgical procedures," said Dr. Chen.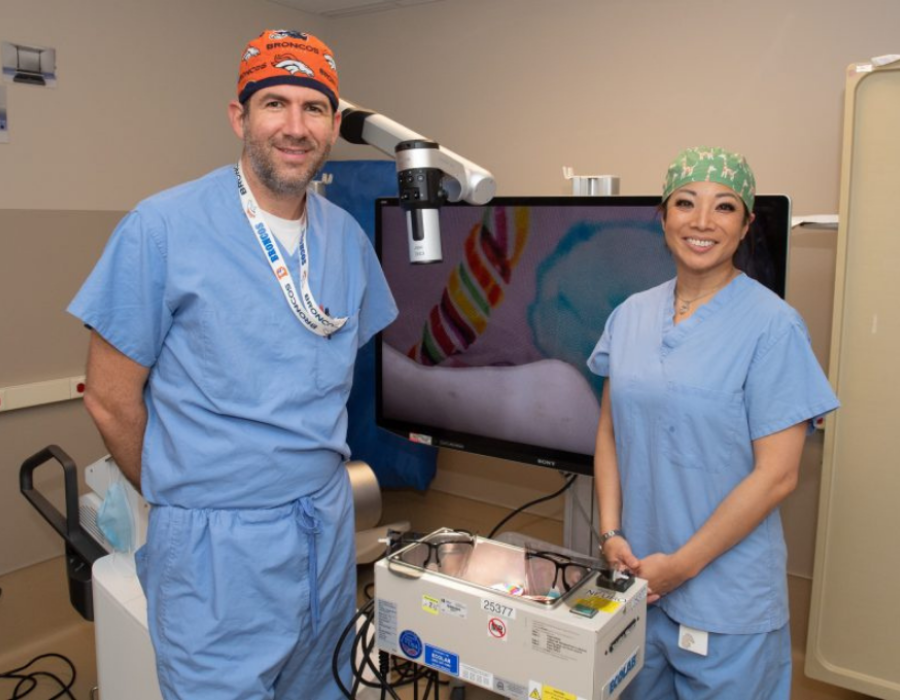 Drs. Joel Katz and Tsulee Chen are among the first pediatric neurosurgeons to use the Olympus ORBEYE in the OR.
This was true when four-year-old Raven Hitchings underwent brain surgery less than 24 hours after doctors found she had a golf-ball size brain tumor. Raven's parents Jamie Mariol and Ronnie Hitchings spent a very anxious day awaiting the outcome of the surgery and the diagnosis of the tumor. "We were expecting to go home after the MRI, but we spent the night in the hospital and the next day she was in surgery," said mom Jamie Mariol.
Akron Children's Hospital purchased the ORBEYE in April 2021. The exoscope magnifies the detail of tissue, blood vessels and other anatomy at up to 26 times and displays these details in 3D and at 4K resolution on a 55-inch monitor specifically designed by Sony and Olympus for use in the operating room. With the ORBEYE, surgeons operate in a "heads-up" posture rather than leaning over the patient.
Dr. Chen noted neurosurgeries can range from 2 hours to up to 9 hours for complicated brain tumor cases. In this regard, the comfort of the surgeons is an important factor. Raven's surgery took six hours.
"We are all used to wearing really heavy eye loupes and a headlight, but this technology allows us to do our longer surgeries in a more heads-up, ergonomic position," she said.
The high resolution and magnification help surgeons see greater anatomical detail, such as tissue boundaries, blood vessels and lesions. In addition, the whole surgical team can view the same image, important for learning and consultation.ii
Once the tumor was removed, lab tests showed it to be benign. Moving forward, Raven will need routine neurosurgery check-ups in addition to physical therapy to address the effects of the tumor on the development of her fine and large motor skills.
To date, the ORBEYE has been used in neurosurgery, spine, neuro ENT, and plastic surgeries at Akron Children's. Since its launch, the ORBEYE has been used in more than 1,000 lifesaving cases, based on data from early adopters of the new technology.i
---


i Data on file at Olympus

ii ORBEYE Fair Balance Statement: It is recommended to customize the ORBEYE™ exoscope to the needs of each specialty, with features such as Auto Focus, Near Infrared Imaging Capabilities and more. Individual user profiles offer enhanced customization to detailed settings on the ORBEYE, the camera head and foot pedal. Near Infrared Imaging Capabilities are only available for neuro- vascular procedures in adult patients.