Big Screen Video Microscope Means Big Advantages for Surgeons
Dr. Charles Branch, Neurosurgery
It's the rare patient who asks how you, the surgeon, are going to hold up during their surgery, but the question does come on occasion. I try to answer honestly. It's grueling. In the world of neurosurgery, it's particularly grueling. Neurosurgeons are often dealing with conditions that need perfect magnification and illumination. We end up hunched over a microscope or with loupes and manipulating surgical tools at a very careful pace to maintain top precision. This goes on for hours.
Sometimes eight. Sometimes more. Hunched over. Peering into the microscope.
You can see it in the eyes of those patients who thought to ask. It's the look that says, How do you hold up doing this for hours?

All that hunching is one reason we feel fortunate to obtain a new ORBEYE 4K 3D video microscope to help us get the job done.
Painful bending or hunching has been replaced by "heads up" surgery. The video capture is displayed on a 55" big screen, in real time, and with 26X magnification, which is a good bit more advanced than the 15X we've used for years.
For a surgeon who treats a lot of painful spine conditions, some caused by repetitive actions, it's a relief to know I can protect my own back for my future days doing the work I love.
But will patients be as excited as I am? After all, why should they care about my comfort on the job?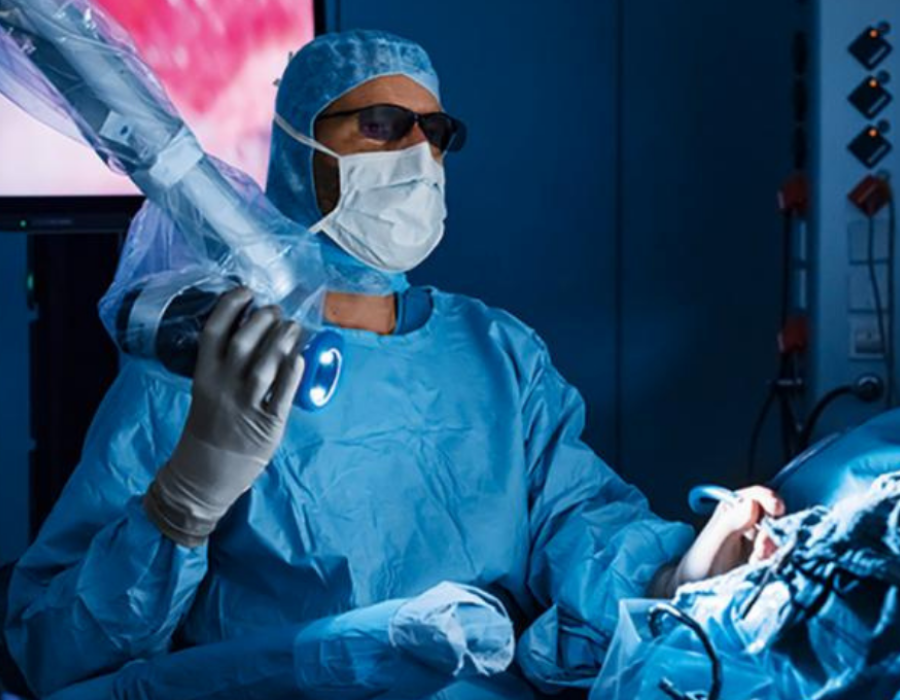 What's Good for Me Is Good for Patients
At Wake Forest Baptist Medical Center, we are competing with some of the best and brightest medical facilities in the world. If a person in our region is faced with a serious condition that requires surgery, that person has his pick of multiple destinations.
In such an environment, new tools can sometimes mean the necessary difference in keeping a patient local and even drawing new ones from far-flung locations.
Patients want minimally invasive procedures and groundbreaking technologies. They know that minimally invasive treatments may offer benefits to patients in terms of reduced hospital stays, improved recovery times and reduced rates of infection. At Wake Forest Baptist, we offer the best in minimally invasive procedures.
But a recent meta-analysis found that while almost all surgeons experience musculoskeletal pain as a result of current operating room ergonomics (generalized pain; pain in the back, neck, and shoulder; and fatigue) minimally-invasive surgeons are significantly more likely to experience musculoskeletal symptoms than those performing open surgery.i
We believe that we can continue to offer minimally invasive procedures while also improving the experience for surgeons, a belief that helped lead us to be the first in the Southeast (and second in the world) to integrate an ORBEYE video microscope into our procedures.
Olympus and SONY developed the system through their joint venture, SOMED. They call it the ORBEYE video microscope but I often call it my "soda can on a stick." The scope sits over my shoulder like a second set of eyes and easily projects this magnified view on the monitor.
As I'm looking – while sitting or standing up straight -- at the delicate blood vessels of the brain or nerves in the spine, in brilliant 4K 3D resolution, and manipulating my tools, I have never been more comfortable. Discomfort in my every day work is now a thing of the past.
Yes, It's Brain and Spine Surgery -- and So Much More
Sharing your toys can be tough, but there are some advancements so important that you can't help but spread the wealth. From the outset, surgeons from across our health system have been coming to neurosurgery and requesting the ORBEYE video microscope: from urology to pediatrics to orthopedics. One surgeon has used it successfully to reverse vasectomy, which is a difficult procedure. Another performed a pediatric lung resection. And another has successfully removed a spinal cord tumor.
There's no doubt that their enthusiasm is due in part to what they're hearing about reduced surgeon discomfort during procedures.
I've heard some describe physician wellness or ergonomic health as the next major initiative in healthcare, a "Fourth Aim" to add to Triple Aim measures that were once the buzz. What if the healthcare team's tools – and the facility with which those tools are used – actually enhanced the team's wellness?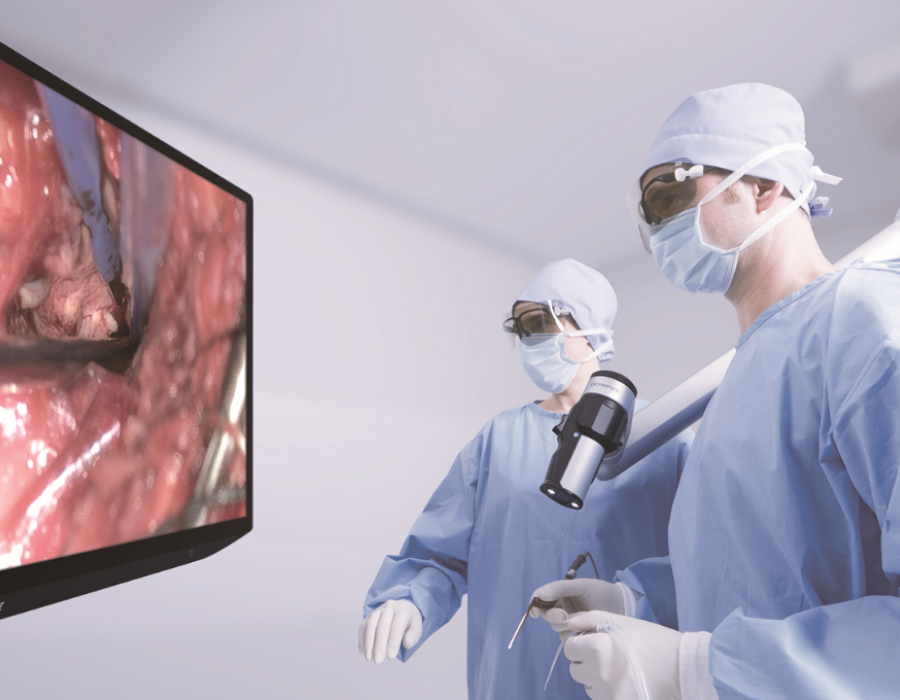 We are banking on good results and have also seen a new comfort that comes from more easily working together. More than one physician or learner has remarked to me how liberating it is that everyone in the surgical suite has the same 3D view without having to get contorted to look in the microscope or risk contamination of the sterile field. We look together, we can remark together, we learn together in real-time, on what we're viewing on the Big Screen. This collaboration becomes a teaching advantage for residents, the surgical team, and all of the learners in the OR.
So, while it may be the rare patient who asks me how I hold up with long hours in the OR doing complex minimally invasive spine surgeries, it's no longer a complicated answer.
With a twinkle in my eye, I'll say. "It's like a having soda -- on a stick -- and a smile!"
Dr. Branch is Professor and Chairman, Department of Neurosurgery at Wake Forest University School of Medicine and practices at Wake Forest Baptist Medical Center. The ORBEYE® video microscope was developed in part and is marketed by Olympus, a contributor to this article.

---
iSurgeon symptoms, strain, and selections: Systematic review and meta-analysis of surgical ergonomics. Stucky, Chee-Chee H. et al. Annals of Medicine and Surgery , Volume 27 , 1 - 8