Olympus Westborough Wins Silver MassEcon Impact Award
Olympus takes great pride in each of its locations and holds a special appreciation for the newest branch in Westborough, Massachusetts.
As a prominent new business operation focused on innovation, social impact, and diversity and inclusion practices, Olympus' Westborough location was honored as the Silver winner in the Central Region for the 18th Annual 2021 Team Massachusetts Economic Impact Awards on April 7, 2022. Each year, MassEcon recognizes employers who make significant investments in their employees and facilities in Massachusetts.
MassEcon is a statewide nonprofit alliance of private and public sector partners that champions Massachusetts as a great place to start, grow or locate a business. Olympus Corporation of the Americas ("Olympus") was nominated by the town of Westborough as a candidate for the MassEcon Impact Award 2021.
Once 14 companies were selected as finalists, they were invited to participate in the Finalists Showcase to deliver a two-minute pitch on why they should be awarded a gold, silver, or bronze award in their region.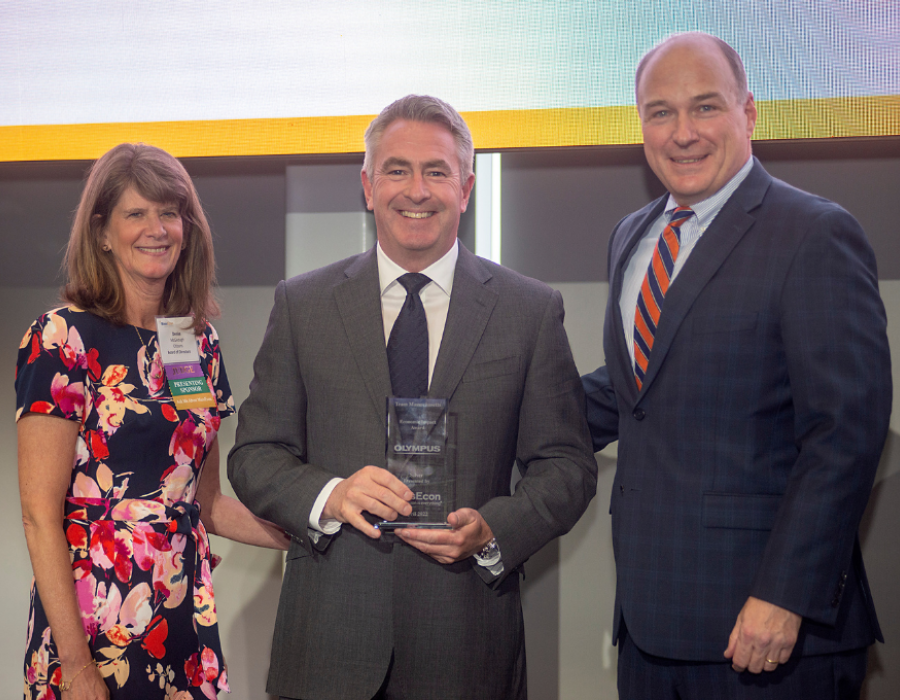 (Center) Richard Reynolds, President of Olympus' Medical Systems Group, accepting MassEcon Award 2021.
Olympus was proud to be among the finalists and award-winning companies honored at a dinner, held at the Gillette Stadium Putnam Club in Foxboro, MA. Richard Reynolds, President of Olympus' Medical Systems Group, accepted this award on behalf of Olympus, among a table full of colleagues there to celebrate the company's excellent achievement.
"

We are thrilled to be recognized as an employer that has made significant investment in the Massachusetts health science sector, and we are grateful to the town of Westborough for nominating Olympus."
---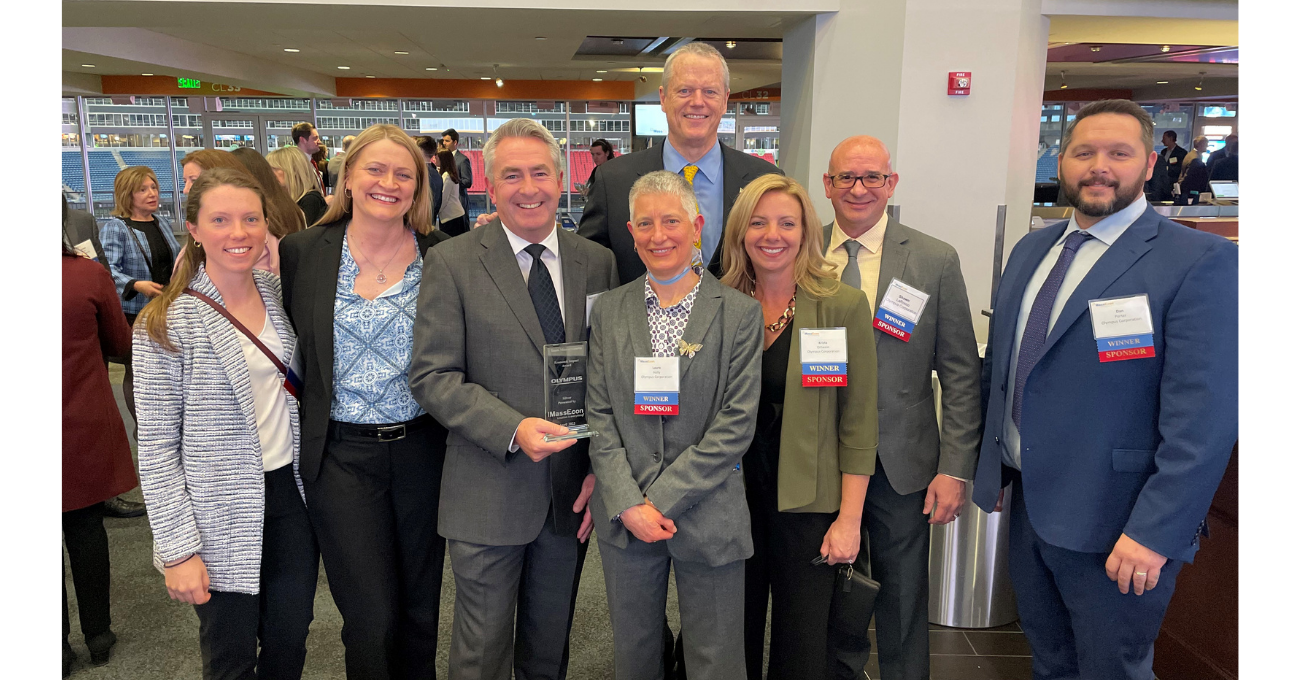 Olympus team members with Massachusetts Governor Charlie Baker Jr.
The new Westborough facility is a 150,000-square-foot building that was established in 2021.
This facility was constructed to unite the Southborough and Littleton branches to create a collaborative and engaging workspace for all Massachusetts-based employees.
The building encompasses an onsite cafeteria, fitness center and daycare, along with state-of-the-art training and R&D labs.
Additionally, it features conference rooms and meeting spaces with innovative technology for virtual and global collaboration across many platforms.
"The expansion of our medical business in Massachusetts furthers our ability to support physicians in diagnosing and treating diseases and disorders, such as colorectal cancer," stated Reynolds. "With this new investment, we also deepen our impact throughout the state as we further our connections and collaborations with health care and community partners."
Receiving this award is a true testament to the hard work and innovation that Olympus puts into its employees and its products, with the ultimate goal of making people's lives healthier, safer, and more fulfilling.