At Olympus, we view the world—and the people in it—through a variety of lenses. This point of view has helped us build a welcoming, inclusive workforce and exceptional employee performance.
---
Diversity & Inclusion at Olympus
Making people's lives healthier, safer, and more fulfilling. This is what we do. It is our purpose. We strive to give our employees the opportunity to put our corporate philosophy into action. Our commitment to diversity and inclusion is critical in creating a customer and employee experience that aligns with our core values and drives our business forward. Through this commitment, we hold each other accountable and act with integrity in our actions. We focus on three initiatives in the work that we do to advance our company along our diversity and inclusion journey.
Diversity & Inclusion Areas of Focus
---
We value the diversity each of our colleagues brings to the organization, and we strive to assure that everyone feels they are treated respectfully and fairly, are valued, have a voice and sense of acceptance and belonging, and are confident and inspired.
After all, opportunities can only be realized when we practice unity and work together, harnessing the diverse strengths within us.

The CEO Action for Diversity & Inclusion™ coalition is the largest U.S. CEO-driven business commitment to advance diversity and inclusion within the workplace. This commitment is guided by a realization that addressing diversity and inclusion is not a competitive issue but a societal issue. Recognizing that change starts at the executive level, more than 900 CEOs of the world's leading companies and business organizations are leveraging their individual and collective voices to advance diversity and inclusion in the workplace.
As an organization, we are committed to these same values worldwide, and at Olympus Corporation of the Americas (OCA), we are an active participant in the CEO Action for Diversity & Inclusion coalition. Watch our OCA CEO Nacho Abia's pledge for diversity and inclusion in the video.
Colleague Affinity Networks
At Olympus, we support Colleague Affinity Networks (CANs). The goal of Olympus CANs is to provide affinity and allyship. These groups focus on creating a more inclusive workplace to allow all employees to fully contribute to and thrive in our company. Our CANs accomplish this by supporting Olympus business objectives through diversity education and awareness, and by building networks of people and resources throughout the organization. Every employee has a role to play in developing these connections and resources that make us stronger as an organization.
Our current Colleague Affinity Networks
---
African American
Asian
Emerging Professionals
Hispanic-Latino
Interabilities
Intercultural (San Jose location)
Interfaith
LGBTQ
---
Our Leader's Commitment to D&I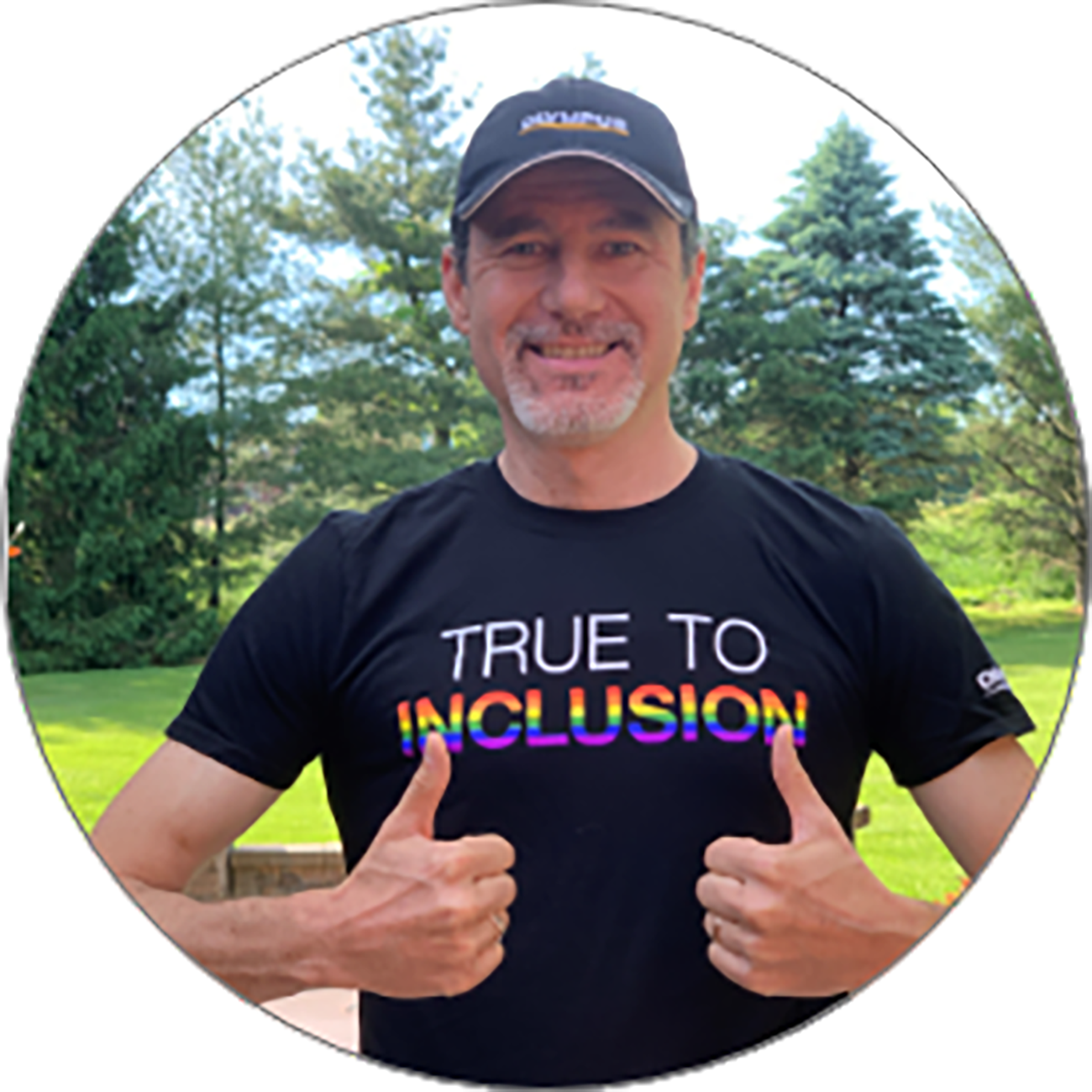 Pride Wishes from Julien Sauvagnargues, President, OCA
Pride Month and the LGBTQ community have been close to my heart for many years. I was a teenager when I first learned that my older brother is gay. After he came out, our bond as brothers became stronger. Our family dynamic also became stronger as my parents expressed nothing but love and support for my brother. This experience started what has become a lifelong journey of proudly being an advocate for the LGBTQ community.
In my later teens, I met many more LGBTQ people. I fondly remember meeting others in the community and being welcomed with open arms when I would visit my brother in New York City. As I grew into my 20s, many of my friends also began to come out as LGBTQ. It was hard for me to understand that celebrating and supporting people like my brother is not how everyone in society views this community.
I take my role as an ally and advocate very seriously. As the President of Olympus Corporation of the Americas, I feel it is imperative to outwardly champion diversity and inclusion efforts from the top of the organization. I always want to ensure I am setting an appropriate tone and supporting the efforts of the rest of the organization. As I have said many times, I believe that a diverse organization is a more efficient organization, with more opportunities to succeed in a very competitive world. If we manage to embrace our unique identities, we will be stronger than if we all look and think the same.
At Olympus, we encourage the involvement of our employees in D&I efforts through membership in activities and organizations that give people the opportunity to educate and support one another. It's another way in which we bring our Core Values to life. Our Colleague Affinity Networks (CANs) regularly design engaging and effective workshops and activities that help equip our employees with fundamental knowledge that helps us all become stronger allies in our professional and personal lives. Never underestimate the power of simply listening to one another to develop stronger empathy.
Thank you for supporting Pride!
Rusty Segan, Chief Medical Officer, OCA
"I am passionate about Disability Pride for deeply personal reasons. Disabilities come in many forms, both seen and unseen. They all have significant impact on people, their families, and the larger global community…. READ MORE
---
Designations & Awards
Olympus Corporation of the Americas was recently recognized for our Adoption-Friendly (2020), Military-Friendly (2021) and Human Rights Campaign (LGBTQ+ inclusive) workplaces in the United States.